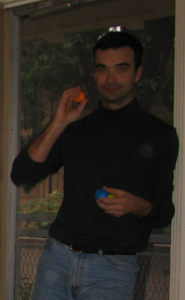 The Lord is risen! He is risen indeed!
I had a grand Easter, one spent with friends and in the Lord's house. Saturday, I drove down to have dinner with my friend Roland. We went to a Persian restaurant, Darya, at the South Coast Plaza in Irvine, for a delicious dinner. The filet mignon was superb, and the lamb kebab was just about perfect. Roland selected a very nice Franciscan cabernet to go along with the meal. My friends make me feel very sophisticated eating at ethnic restaurants, since I'm a country boy who grew up on potatoes and beans. Roland and I had a great time catching up and I got a chance to see Darren, too.
Sunday, we celebrated the Resurrection at church and then I joined a bunch of friends for a potluck dinner. I tried my hand at a Mexican corn stew in the crock pot, but it didn't turn out so well. I don't know what I was thinking to be cooking a stew without meat, that's never good. The Easter egg hunt did turn into a war of aggression, though.
I'm thankful for my friends, they are special. In a lot of ways.