Update: I made some packaging errors, so I took the link down. My apologies. The UI file wasn't properly referenced, and the package was missing a neccessary file for the amazon import. I'll have an updated package sometime later today.
After a bit of a delay, I'm ready to push out the next version of Bookcase. Version 0.10pre1, a.k.a "pink sunglasses", is available for a test shot. Please note that this is a test release, and as always, you should backup your data files. I make no guarantees about my coding ability.
The three new primary capabilities are:
Importing books, music or movies from Amazon.com. Currently, there is no function to "auto-fill" existing entries in a collection, though.
A new icon view for the collection or entry groups, shown in the screenshot below. It appears whenever you select a collection or group in the left side view.
A new Date type field. The editor shows separate boxes for year, month, and day. With the new field, the document version got bumped, so if you save the file, older versions of Bookcase will not open it!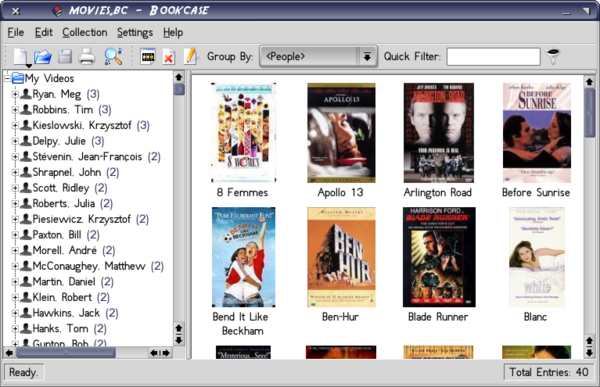 I did not get around to adding z39.50 capability in this version. That will be for version 0.11, I expect. I also hope to add a separate search mode for the Library of Congress, shortly.
If you're brave and willing, give it a shot and let me know about any new or old bugs! Thanks!